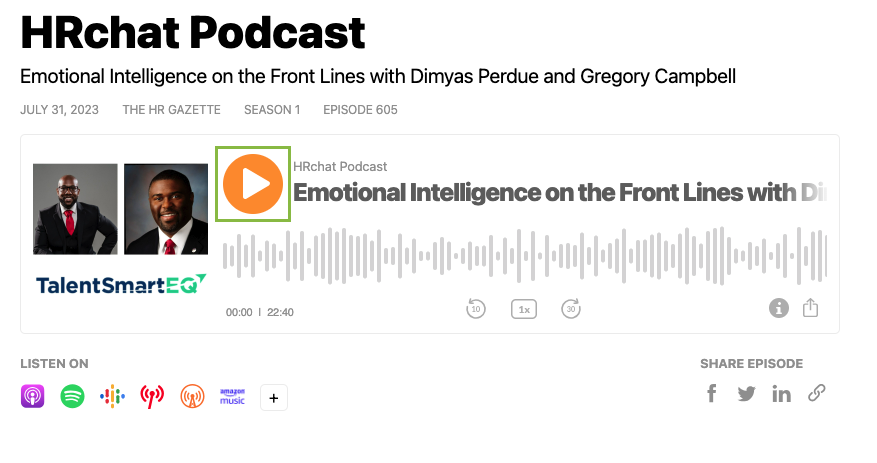 Dimyas Perdue, Director of Military Solutions, and Gregory Campbell, PhD, VP of Law Enforcement and Government at TalentSmart Inc. were able to join Bill Banham at HRchat Podcast. In this thought-provoking episode, they explore invaluable lessons from the military and police force that can revolutionize the Emotional Intelligence (EQ) of corporate leaders and employees.
Dimyas Perdue: A Leader with Military Experience
Dimyas brings over 22 years of training and leadership experience to TalentSmartEQ's military vertical. As a retired United States Marine, Dimyas served as the Senior Enlisted Advisor for the Lejeune Leadership Institute through Marine Corps University. His contributions spanned across various service-wide programs, impacting over 185,000 Marines Corps-wide. Notably, he led the creation and management of the Force Fitness Instructor Program, Marine Leader Development Program, Slated Enlisted Leaders Orientation Course, and the Commander's course.
His expertise in communication, recruiting, ethical decision-making, and resilience makes him a sought-after keynote speaker for agencies like the Travis Manion Foundation, Mary Kay Corporation, Alabama Education Association, and various military commencement ceremonies. Dimyas' international experience extends to working with foreign nationals such as the Jordanian Armed Forces, the Japanese Air Force, and the Philippine Marines, fostering strong partnerships that were key to mission accomplishment.
Greg Campbell: Empowering Law Enforcement with Emotional Intelligence
Greg's passion lies in coalition building, strategic leadership, and Diversity, Equity, and Inclusion (DEI) leadership development. As TalentSmartEQ's Vice President of Law Enforcement & Government, he brings over 25+ years of experience to the team. Greg's remarkable journey includes being a contributing author to "Breakthrough Mentoring in the 21st Century" by Dr. Walter McCollum and publishing articles in various academic journals.
His academic achievements include a BA in Sociology and an MA in Behavioral Science with a specialization in Negotiation and Conflict Management from California State University, Dominguez Hills. He further pursued a PhD in Management with a specialization in Leadership and Organizational Change from Walden University. In his dissertation, he explored the intricate relationship between emotional intelligence and leadership styles of law enforcement executives.
Greg's commitment to fostering inclusive environments is backed by his certifications in Diversity and Inclusion from Cornell University and emotional intelligence from Emotional Intelligence Learning Systems.
Insights on Emotional Intelligence
The HRchat Podcast dives deep into EI, covering crucial questions:
How does EQ show up in the workplace?
How does EI manifest in the military, and how can EI relate to the HR function?
How can HR and leaders develop an understanding and practice of EI in the workplace?
TalentSmart's innovative "Developing EQ™ in Policing" program takes center stage, recognizing the vital role of Emotional Intelligence for law enforcement officers. This program equips them with tools to effectively engage with their communities daily.
Team EQ: Unlocking Collective Emotional Intelligence
While developing EQ is undoubtedly essential for individuals, TalentSmart emphasizes the collective strength of team EQ. As stated on our website, "Your team's performance is measured by what they accomplish as a group, and you can increase your team's efficiency and effectiveness by developing their team EQ." Discover how nurturing team EI can enhance your team's efficiency and success.
Bringing it all together
Dimyas Perdue and Gregory Campbell offer a wealth of knowledge on Emotional Intelligence and its transformative impact on corporate success. Their unique backgrounds, experiences, and expertise lend valuable insights to this dynamic discussion.
Don't miss this illuminating episode of the HRchat Podcast, where you'll gain valuable tools and strategies to elevate Emotional Intelligence in your workplace. Tune in now to learn from the best and unlock the true potential of EQ!