By Lac D. Su, M.S.
It's the heart of summer and, with so many of us spending more time on vacation than in the office, we have to ask a strange question: have you been to Starbucks lately? What do you see walking through the doors? Different personalities behind the counter filling the coffee shop with life, right? You might even wonder why the atmosphere isn't chaotic with such an assorted group. Instead, you see different people cooperating with one another with ease, maybe even appreciating working together. Most of the time, you can't even tell who's in charge because the store manager blends in with the staff. Is this a product of Starbucks culture or something else? It seems genuine and not fake. Something is going on here…
You take a closer look behind the counter and realize the manager is strangely in tune with her staff. She switches her communication style for each team member, leaning comfortably into the different personalities rushing to finish a Venti® Arabian Mocha Sanani before the customer loses patience waiting for his morning fix. To the energetic, outgoing team member the manager whispers, "Go get 'em" in response to a confused new customer stumbling through the door. To another team member with good ideas she finds the time to take him aside and ask, "What blend do you think we should promote next week?" and confidently listens to his pitch. The manager understands her team members' personalities are diverse and she plays into each unique tendency like a master conductor orchestrating a symphony of instruments.
DISC
DISC is the #1 personality assessment method, with more than 40 million people having used it to discover their strengths and personality profile. It's unique because it measures personality along four core dimensions (Dominant, Interpersonal, Steady and Conscientious) and then combines the user's score in these dimensions to provide a single label from one of 14 personality profiles, such as Ally, Coach, Detective, Innovator, or Entrepreneur.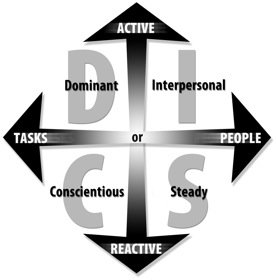 Teams worldwide use the IDISC™ to capture employees' strengths and help them understand their coworkers' tendencies accurately and quickly. Sometimes the natural process of "getting to know each other" isn't enough; a workforce facing the pressure of high turnover and diverse assignments benefits from the ability to cut to the chase in helping employees understand each other.
When taking the IDISC™ upon hire, employees answer a quick, 28 questions online and their personality profile is provided at the click of a button. Each employee's profile is stored online for the duration of her employment, included in an e-learning program that teaches the ins and outs of her personality as well as the profiles of her coworkers. The e-learning features clips from Hollywood movies and television to bring the various personality profiles to life, as well as the ability to track personal development goals and share your profile with others.
Suppose you're the manager of a Starbucks store with a team of 12. As you look over your team's IDISC™ profiles, you realize that Jason, the Motivator, loves to mingle with customers for a reason. He likes to use his people skills and goes out of his way to help others. On the other hand, Sara, the Innovator, tends to spend her time planning the next drink promotion. And you aren't surprised to see you have the Coach profile. As a Coach, you're often busy on the floor helping your staff grow. It's your natural tendency to harness the potential in others. Understanding these tendencies gives you a big—picture perspective of who you are, why you do what you do and what is going to maintain your team's motivation in the future.
Good thing your team has the IDISC™ online personality test with e-learning to understand each other. Without it you could have a long, hot summer!
ABOUT THE AUTHOR:
Lac D. Su, M.S.
Lac D. Su is the Director of Strategic Alliances for TalentSmartEQ, the leading provider of emotional intelligence tests, products, and training. He forms and manages relationships with key TalentSmartEQ resellers and assists clients with the implementation of skill development initiatives.